Our Starter Kits Habitat are available in the sizes S, M or L
S = 6 mm for small ant species such as. Myrmica sp.
M = 10mm for medium ant species such as Lasius sp. and Formica sp.
L = 20mm for large ant species such as Camponotus sp. or with nest inset also for smaller ant species.
The glass of all our Formicariums is cut according to DIN 1249 with a tolerance of +/;- 1mm
Starter Kits "Desert", "Meadow", "Forest" and "Rainforest"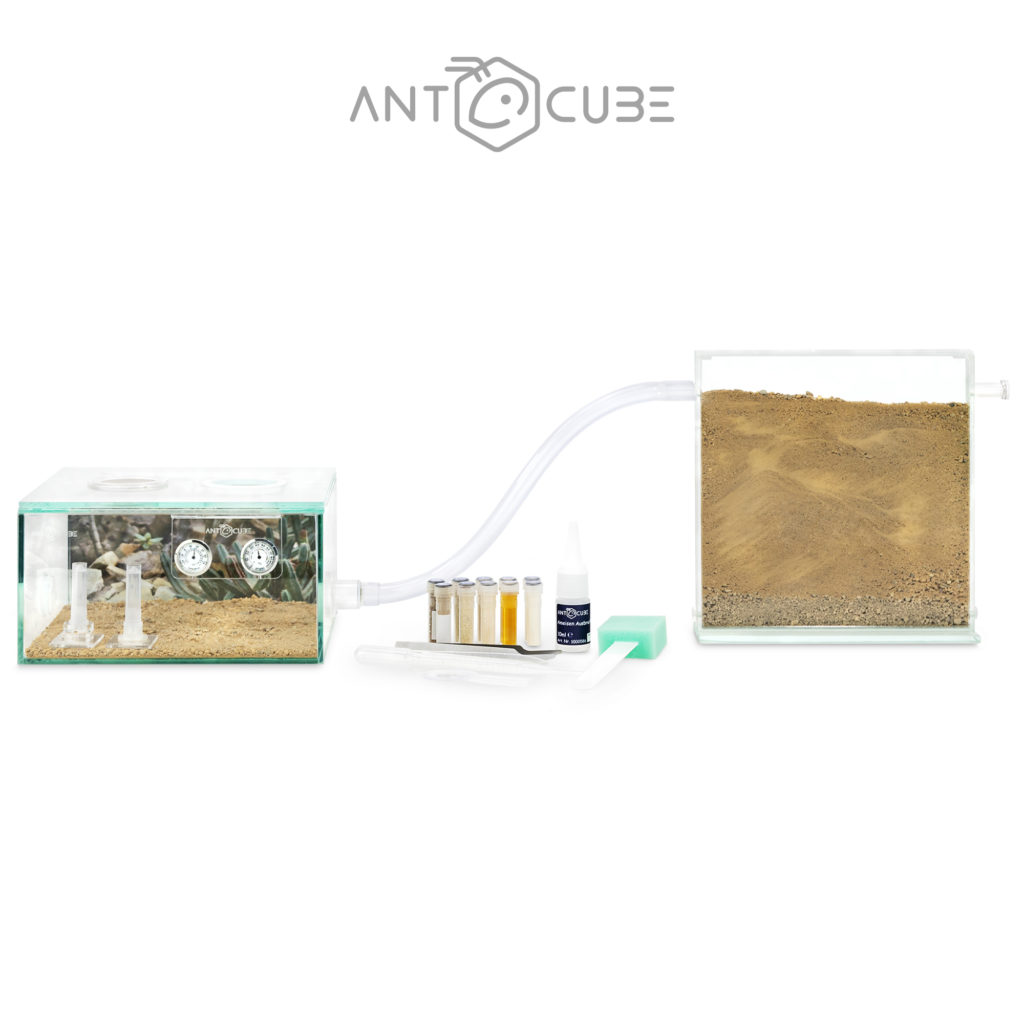 Starter Kit Desert
The Starter Kit Desert is designed for ant species that live in deserts, wastelands or steppes or simply come from mediterranean areas
1x ANTCUBE arena 20x20x10
1x Ant arena frame 20×20
1x Ant arena covering 20×20
1x ANTCUBE antfarm 20×20 size S, M or L
1x 0,5m flexible tube transparent size S, M or L
1x ANTCUBE – Red screen 20×20
1x Soil "desert" 1kg
1x formicarium granulate 200ml – beige
1x grid insert – 50mm – stainless steel
1x Formicarium plug for 50mm bore
1x Formicarium plug for 27mm bore
1x grid cap – stainless steel size S, M or L
1x Basin connector hole 27 and hose 10-16 mm – M25
1x Formicarium nut M25 – grey
1x drinking trough 2ml – 360 degrees
1x feed dispenser 2ml – dosing
1x Mini thermo- hygrometer analogue – Display – suspended
1x ant escape protection oil 10ml
1x tweezer spring steel – wide – soft
1x plastic tweezers transparent
1x plastic pipette 3ml
1x Hand magnifier 2fold – 30mm
1x Food Mix Set – standard
1x foam wiper 150x18x2.5mm
1x Photo Background – desert – 20×10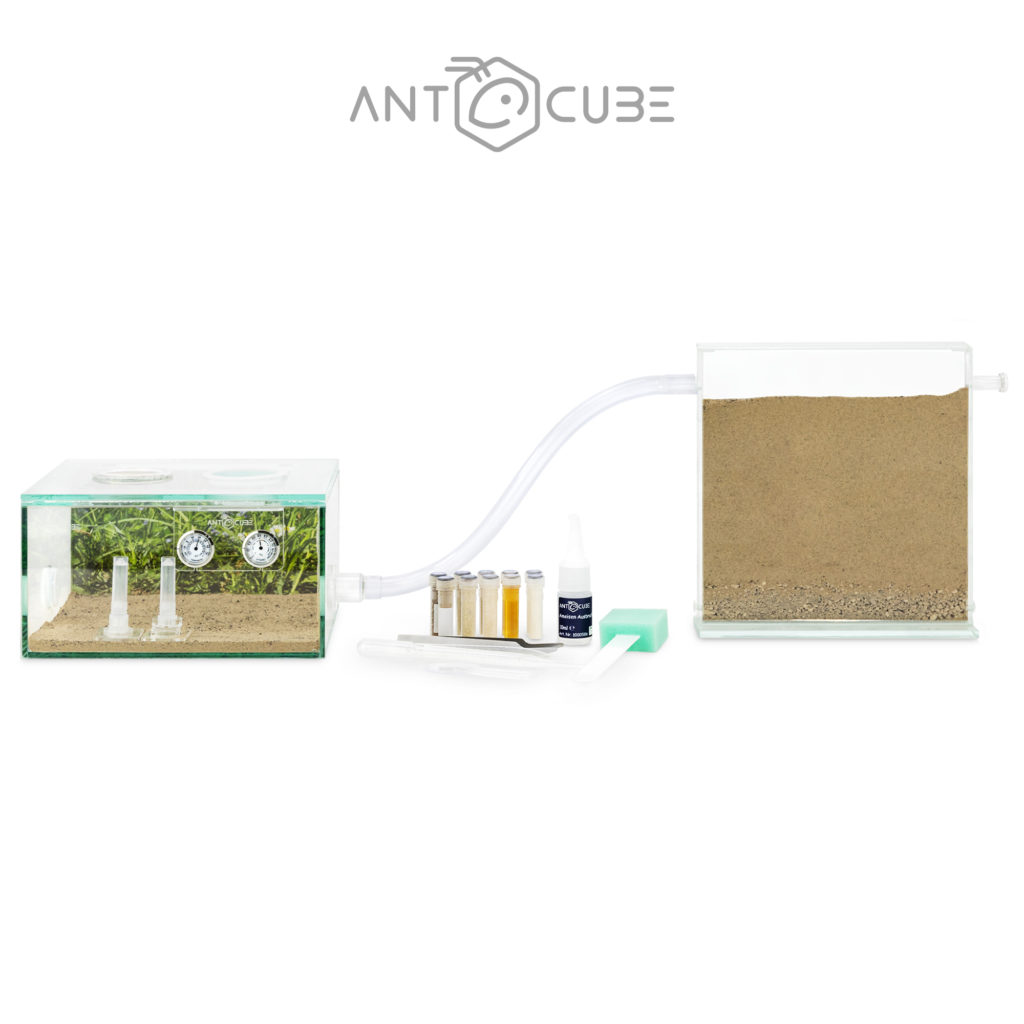 Starter Kit Meadow
The Starter Kit Meadow is designed for ant species that live in meadows, fields or simply in temperate climate.
1x ANTCUBE – arena 20x20x10 – flat
1x Ant arena frame 20×20
1x Ant arena covering 20×20
1x ANTCUBE – antfarm 20×20 – detached size S, M or L
1x 0,5m flexible tube transparent size S, M or L
1x ANTCUBE – Red screen 20×20 – self-adhesive
1x Soil – Meadow – 1kg
1x formicarium granulate 200ml – beige
1x grid insert – 50mm – stainless steel
1x Formicarium plug for 50mm bore
1x Formicarium plug for 27mm bore
1x grid cap – stainless steel size S, M or L
1x Basin connector hole 27 and hose 10-16 mm – M25
1x Formicarium nut M25 – grey
1x drinking trough 2ml – 360 degrees
1x feed dispenser 2ml – dosing
1x Mini thermo- hygrometer analogue – Display – suspended
1x ant escape protection oil 10ml
1x tweezer spring steel – wide – soft
1x plastic tweezers transparent
1x plastic pipette 3ml
1x Hand magnifier 2fold – 30mm
1x Food Mix Set – standard
1x foam wiper 150x18x2.5mm
1x Photo Background – Meadow – 20×10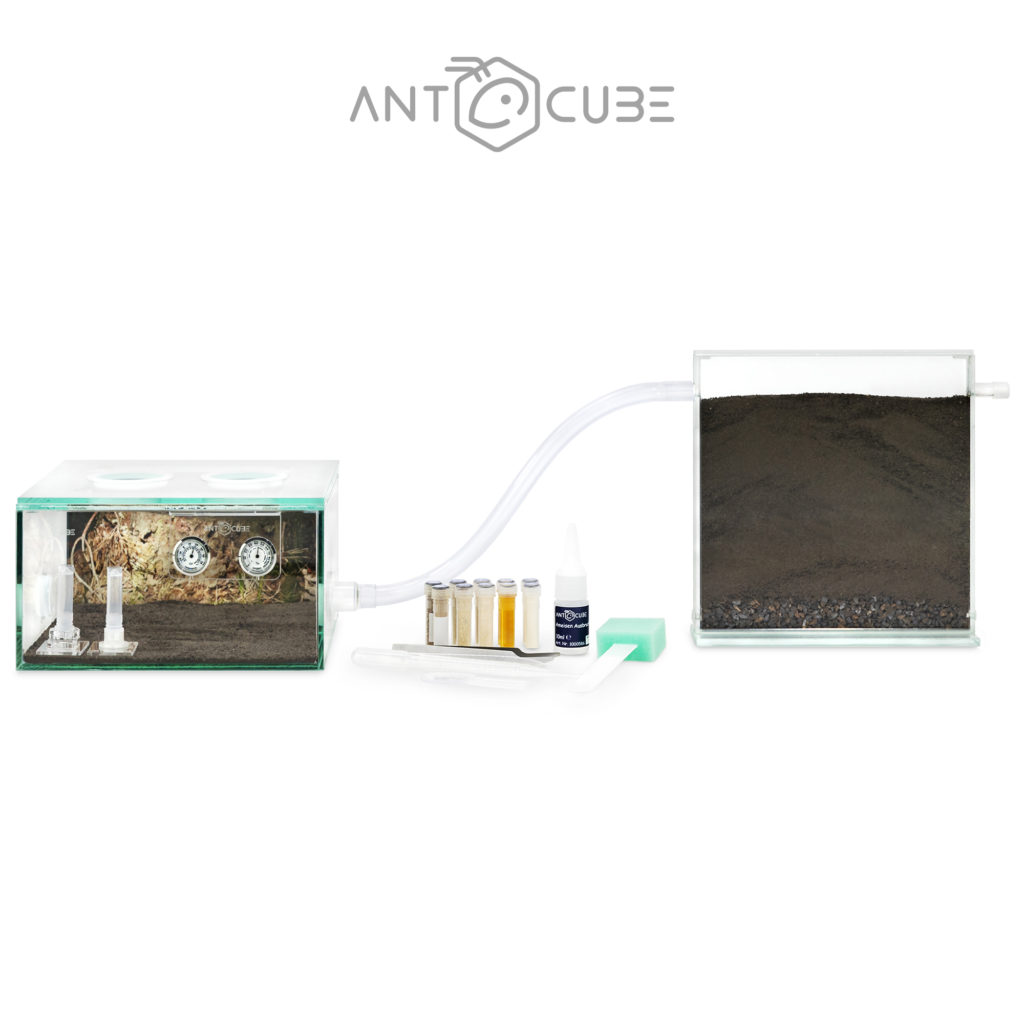 Starter Kit Forest
The Starter Kit Forest is designed for all ant species that live in forests,
1x ANTCUBE – arena 20x20x10 – flat
1x Ant arena frame 20×20
1x Ant arena covering 20×20
1x ANTCUBE – antfarm – 20×20 – detached size S, M or L
1x 0,5m flexible tube transparent size S, M or L
1x ANTCUBE – Red screen 20×20 – self-adhesive
1x Soil – forest – 1 Kg
1x Formicarium granulate 200ml – black
2x Formicarium plug for 50mm bore
1x Formicarium plug for 27mm bore
1x Formicarium cap – connector S, M or L
1x Basin connector hole 27 and hose 10-16 mm – M25
1x Formicarium nut M25 – grey
1x drinking trough 2ml – 360 degrees
1x feed dispenser 2ml – dosing
1x Mini thermo- hygrometer analogue – Display – suspended
1x ant escape protection oil 10ml
1x tweezer spring steel – wide – soft
1x plastic tweezers transparent
1x plastic pipette 3ml
1x Hand magnifier 2fold – 30mm
1x Food Mix Set – standard
1x foam wiper 150x18x2.5mm
1x Photo Background – forest – 20×10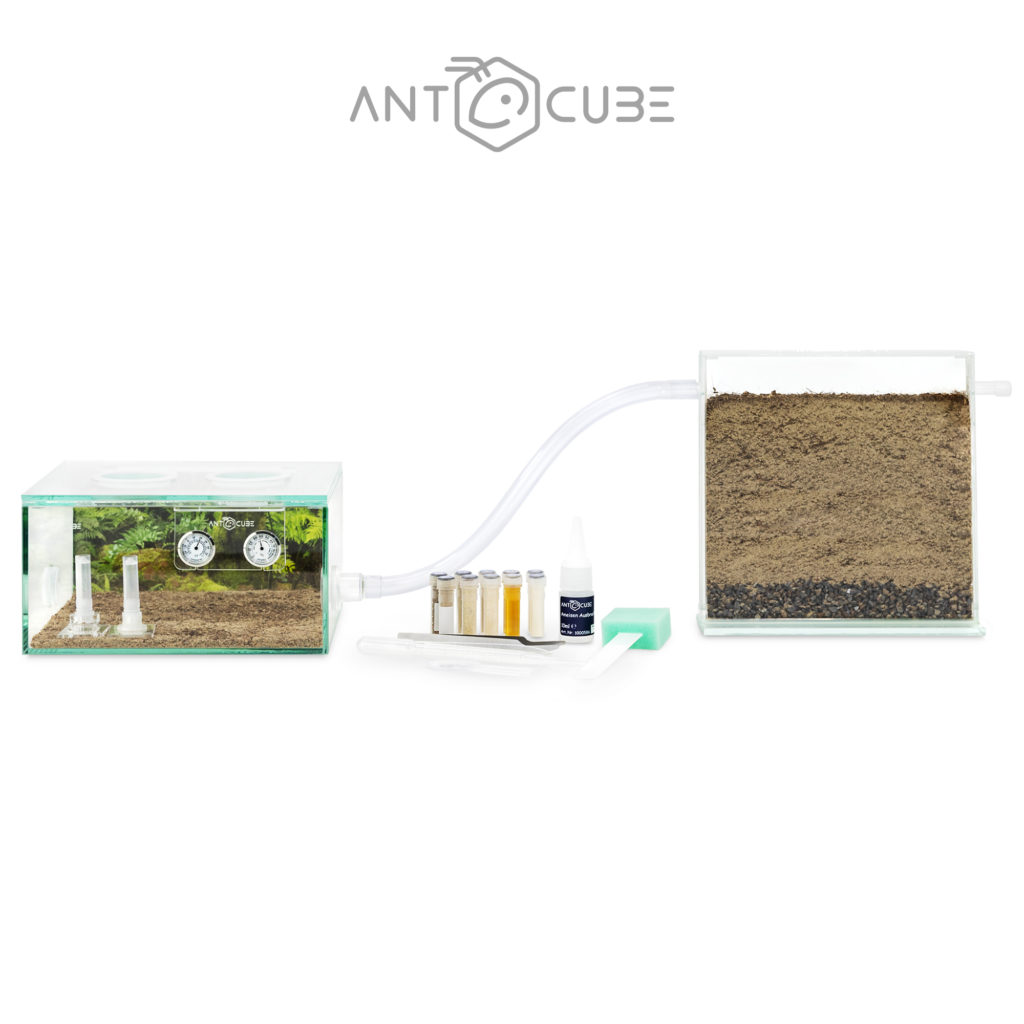 Starter Kit Rainforest
The Starter Kit Rainforest is designed for all ants that live in tropical rainforests,
1x ANTCUBE – arena 20x20x10 – flat
1x Ant arena frame 20×20
1x Ant arena covering 20×20
1x ANTCUBE – antfarm – 20×20 – detached S, M or L
1x 0,5m flexible tube transparent S, M or L
1x ANTCUBE – Red screen 20×20 – self-adhesive
1x Soil – forest – 1 Kg
1x Formicarium granulate 200ml – black
2x Formicarium plug for 50mm bore
1x Formicarium plug for 27mm bore
1x Formicarium cap – connector S, M or L
1x Basin connector hole 27 and hose 10-16 mm – M25
1x Formicarium nut M25 – grey
1x drinking trough 2ml – 360 degrees
1x feed dispenser 2ml – dosing
1x Mini thermo- hygrometer analogue – Display – suspended
1x ant escape protection oil 10ml
1x tweezer spring steel – wide – soft
1x plastic tweezers transparent
1x plastic pipette 3ml
1x Hand magnifier 2fold – 30mm
1x Food Mix Set – standard
1x foam wiper 150x18x2.5mm
1x Photo Background – forest – 20×10